Bali Full Day Beratan Lake Tour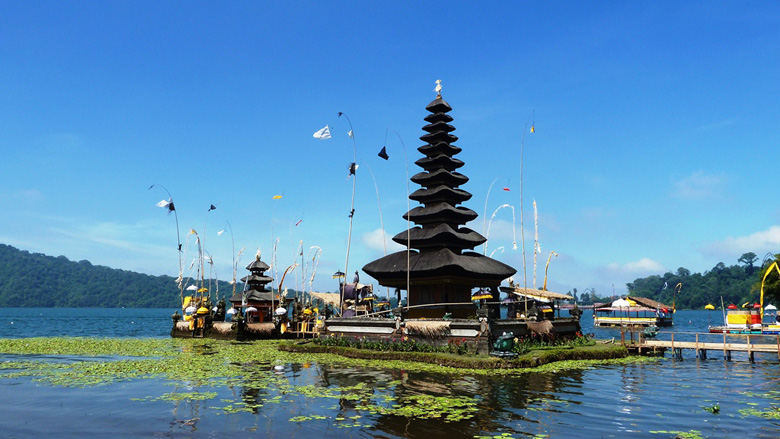 BALI FULL DAY BERATAN LAKE TOUR
Bali Full day Beratan lake Tour is one of the most favorite tour to visit Bedugul village with cool atmosphere and other tourist destination. This is an exciting tour to enjoy the beauty of nature panorama, Beratan Lake Tour will visit Taman Ayun Temple is beautiful temple located in Mengwi regency with lake surrounded and beautiful architecture.
Then visiting Alas kedaton monkey forest.Then tour continue visiting the floating temple of Ulun Danu Beratan Temple in beratan lake bedugul village, this temple is famous as a tourist destination in north bali islands. Then tour continue visiting Tanah Lot temple to see magnificent sunset and view of temple by the ocean. Tour will be 8-10 hours. Here is the place of interest to visit during the tour.
PLACES OF INTEREST TO VISIT DURING BALI FULL DAY BERATAN LAKE TOUR: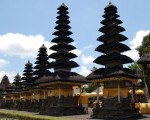 Taman Ayun Temple is a Royal Temple of Mengwi Empire and it is located in Mengwi Village, Badung regency and about 18 Km north side of Denpasar town. It is strategically located beside of major roadway between Denpasar to Singaraja. It is set on the land which is surrounded by the big fish pond and look like a drift on the water. It owns the beautiful temple building with multi storied roof and Balinese Architecture.
The wide beautiful landscape garden in front courtyard to welcome all visitors who come and visit this temple. It is a beautiful place to see duringyour vacation in Bali.Taman Ayun Temple is also considered to have historical values, which makes the regional government of Bali suggests the UNESCO in 2002 that this temple is included in World Heritage List.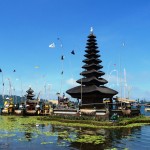 Most of the tourists asking about the temple by the lake, during this Bedugul tour. That temple is Ulun Danu Beratan Temple. Ulun Danu Beratan Temple is one of tourist object in Bali located in the plateau area of Bedugul which is famous of cool temperature area. It is consisted of several temple buildings that are all set beside of Beratan Lake and to be the most popular to see.
Outside of temple area, some of Buddhist statues and mosque exist to signify that the good relaxation between the religions is well maintained. Meanwhile, the lake which is protected by the hill is just in front of the temple is very beautiful.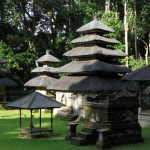 Alas Kedaton is a small forest with the width about 6-7 ha located in the middle of the rice field in Tabanan regency, it is about 40 minutes driving from Denpasar city. The total size of this forest, temple and its supporter facility is about 12 ha. In this forest, there is a temple called Alas Kedaton Temple and owns the natural environments that is looked green with its fresh air and create the calm, quite and holy atmosphere.
The monkeys in Alas Kedaton are very tame and free gallivanting in temple yard, so that the calm atmosphere is sometime solved by noise voice of the monkey, which are playing around and scrambling of food. The monkeys who dwell in this forest, there are jump up and down in temple wall, take a bath in moat or there is also hang out in few leaves representing impression view. And also you can fine the other animal such as Bats or butterfly and many more.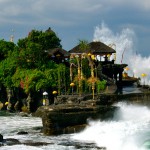 Tanah Lot means "Landin theSea" it is located inBeraban village, Tabanan regency, about 20 kilometers from Denpasar. The temple sits on a large offshore rock which has been shaped continuously over the years by the ocean. Tanah Lot Temple is one of Bali's most important landmarks, everybody knows for its unique offshore setting and sunset backdrops. An ancient Hindu shrine perched on top of an outcrop amidst constantly crashing waves; Tanah Lot Temple is simply a must to see during your holiday in Bali and we are Online Bali Driver will be more than happy to be your partner.
Bali Full Day Beratan Lake Tour Itinerary :
10.00 – Pick up at the hotel 11.00 – Visit Taman Ayun Temple 12.00 – Visit Alas Kedaton Monkey Forest 14.00 – Lunch at Local restaurant 15.30 – Visit Ulun Danu Beratan Temple 16.30 – Visit CandiKuning Market 17.30 – Visit Tanah Lot Temple 19.00 – Back to hotel REGULAR TOUR PRICE :
IDR 600.000/car ( max 6 person)
Inclusion : Car + Gasoline + English Speaking Bali Driver + Parking fee.
NOTE:
Tour duration between 8-10 hours
The tour price is not include Lunch and entrance fees.
The tour is Private Tours, means there is no other participant, just only you and your companion
Pick up area : Nusa dua, Jimbaran, Kuta, Seminyak, Canggu, Sanur, Ubud. ( please contact us for other pick up area and for tour starting time and price)
Fast respond(whatsapp/viber/line) is suggested to contact us for more details about the tour or booking the tour.
Noted : (*) is required.
Guest Details