Bali Kintamani Volcano Tour

BALI KINTAMANI VOLCANO TOUR
Bali Kintamani Volcano Tour is one of the best day tour in Bali from Online Bali Driver to Visit Kintamani Village with breathtaking view of an active volcano and lake batur from the top. The most favorite tour to enjoy the magnificent view of Mount Batur Volcano and the lake form Kintamani Village, do not miss this trip opportunity to make your holiday more valuable one. In this tour, also we will visit other interesting tourist destination which is worth to visit during your holiday in Bali Islands.
In this Kintamani Volcano Tour, you may visit interesting places such as Watching Barong and keris dance performance is a traditional Balinese dance with fighting story between Good and Evil, after that continue to visit Tegenungan water fall which is located at tegenungan village,Goa Gajah temple or people call it Elephant Cave temple. After we done with elephant cave temple, we will drive to volcano where you can have lunch at local restaurant with view of mount Batur and lake Batur from distance in Kintamani village.
After enjoying lunch with breathtaking view from kintamani village, we will continue with Luwak Coffee,spices,and fruits plantation at Sribatu Village where you can see the traditional process of making many kinds of coffee, tea,etc. The last visit from kintamani volcano tour will be Tirta Empul Temple is a sacred temple with holy spring water at Tampak siring village before drive back to your hotel. Enjoy your tour with Online Bali Driver in Bali and below is a short description about the place of interest you will visit during Full Day Bali Kintamani Volcano Tour.
INTERESTING PLACES MAY VISIT IN BALI KINTAMANI VOLCANO TOUR:
TRADITIONAL BARONG AND KERIS DANCE IN BATUBULAN VILLAGE
This Batubulan village is one of the village in Gianyar. Only 20 minutes from the capital city of Denpasar and where the dance will be performed by local dancers and takes 1 hour long performance. Barong is a character in the mythology of Bali. He is the king of the spirits ,leader of the hosts of good, and enemy of Rangda. BanasPati Rajah is the spirit which animates Barong. A lion shape is represent him often, and traditional performances against Rangda are popular parts of Balinese culture.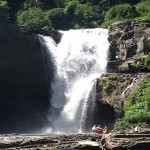 Tegenungan water fall is another favorite tourist destination in Bali especially in Gianyar regency. This tegenungan water fall is located at Tegenungan village which is really tidy and green village with view of rice paddy and beautiful river where the water fall is. With lovely friendly smile from the local people make you feel more welcome to visit and enjoy the fantastic view of water fall, the only one water fall in Gianyar regency.
ELEPHANT CAVE TEMPLE OR GOA GAJAH TEMPLE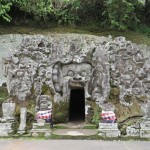 Goa Gajah temple or famous with Elephan Cave temple is located in west side of countryside, Blah Batuh Sub district and Gianyar Regency. It is about 26 km from Denpasar city. This cave is built at crevasse edge from the federation of 2 rills that is named Pangkung River , where the irrigation is mixed with flow of Petanu River. The federation area of two rivers is called Campuhan. It owns the magical energy of Rwabineda Concept or Balinese meaning is two different matters on this basic concept hence Goa Gajah Temple or Elephant Cave Temple is built among two rivers.
BATUR VOLCANO AT KINTAMANI VILLAGE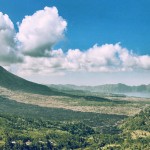 Bali offers many beautiful places to visit. One of them is kintamani Volano. Kintamani is a famous tourist destination with a beautiful lake and an active volcano. It offers astonishing scenery and surrounded by 6 ancient villages. The villagers own distinct lifestyle and cultures. Most of them are farmers, tourism workers, and merchants. So, why do many tourists visit this place? They want to see the mount Batur while enjoying local foods. Both local and foreign tourists love to visit Kintamani. They can relax in nature and visit some interesting places around the village. It's the best solution to relieve their stress.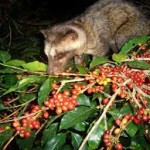 On the way back from Kintamani volcano,we will pass to Sribatu village. Here is well known as where the Luwak coffee plantations are. Luwak coffee is very unique in process of making with all the steps are traditionally done by the local people. Luwak is an animal looks like a cat but it has shaper nose and black eyes. Some people call it mongoose. This animal is active at night time and eat coffee beans from the threes. They also like to eat fruits such us papaya, banana and so on. The process of making Luwak coffee is started in the morning by collecting the poops from luwak and take the coffee beans out.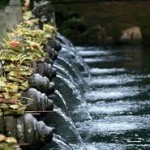 This temple is located at Tampak siring village in Gianyar regency. This temple is built around the sacred spring at Tampak Siring village. For more than a thousand years, Balinese worshipers have been drawn to Tirta Empul Temple whose sacred spring is said to have been created by God of Indra.
The tradition continues almost unchanged at the temple today.Over 1000 years old, the temple and its two bathing places have been used by Balinese people for good health and prosperity because of the spring water's curative powers most of Balinese come there when there is a ceremony at the temple.
BALI KINTAMANI VOLCANO TOUR INTINERARIES :
08:30 – Pick up at the hotel
09:30 – Barong and keris dance
11:00 – Tegenungan water fall
12:00 – Elephant cave temple
01:30 – Kintamani volcano and Lunch
03:00 – Luwak coffee,fruits plantation
04:00 – Tirta empul or Holy spring water temple
05:30 – Drive back to hotel
BALI KINTAMANI VOLCANO TOUR PRICE :
IDR 600.000/car ( max 6 person)
Inclusion : Car + Gasoline + English Speaking Driver + Parking fee.
NOTE :
Tour duration between 8-10 hours
Regular Tours Price : is a Bali day tours price without include lunch and entrance fee, you need to pay by your own self
Pick up area : Nusa dua, Jimbaran, Kuta, Seminyak, Canggu, Sanur, Ubud. ( please contact us for other pick up area and for tour starting time and price)
The tour is Private Tours, means there is no other participant, just only you and your companion
Please contact us trough whatsapp/viber/line for Fast respond.
[wp_cart_button name="Full Day Kintamani Volcano Tour" price="46″] [show_wp_shopping_cart]
Noted : (*) is required.
Guest Details