Bali Water Sport Packages
Bali Water Sport Packages
Bali is one of the most beautiful island in Indonesia which is famous with the culture, beaches, and lay out of the island that is very good for sightseeing tour. But in Bali also has a beautiful under water and nice water sport for you to enjoy and make your holiday more memorable one. And we are Online Bali Driver, has a corporation with one of the best Bali water sport company. Here are our bali water sport packages or our water sport activities and you can request a single game or make your own package with us.
There are a lot of water sport companies in Bali which are providing water sports too, but we work only the one that Authorized by Government which has good place, good equipment,and good service. So far we are working well with BMR water sport company and they have been doing it since 1985. This is one of the biggest company in Bali and of course if you come there directly as a walk in guest, you will never find the price like what we have given, because we have our special rate on behave of a tour operator in Bali. So what are you waiting for?? Book your bali water sport packages with us and get the good deals!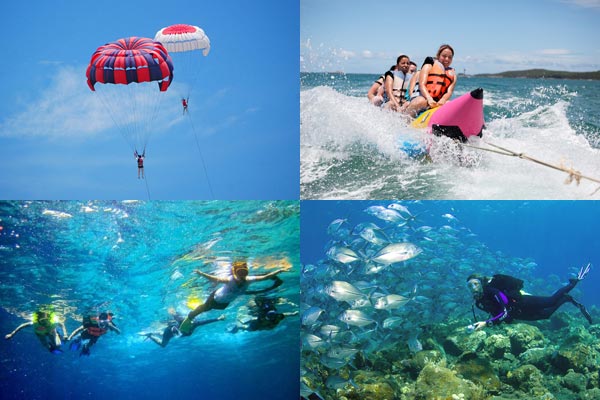 Bali Water Sport Packages price:

Packages
Water sport activities
Price/Person
Package A
Parasailing
Jet ski
Banana boat
USD 40
Package B
Parasailing
Banana Boat
Jet Ski
1 x Dive at Nusa Dua
USD 65
Package C
Glass Bottom Boat
Turtle Island
Snorkeling
USD 35
Package D
Banana Boat
Fly Fish
Jet Ski
Sea Walker
USD 75
Package E
Fly Fish
Jet Ski
Snorkeling
USD 50
Package F
Glass Bottom Boat
Turtle Island
Sea Walker
USD 55
Package G
Jet Ski
Banana Boat
1 x Dive at Nusa Dua
USD 60
Package H
Sea Walker
Turtle Island
Jet Ski
USD 68
Package I
Fly Fish
Jet Ski
Banana Boat
Parasailing
USD 55
BALI WATER SPORT PACKAGES PRICE INCLUDED:
Free transport ( NusaDua, TanjungBenoa, Kuta, Seminyak, Jimbaran.)
All safety equipment, and instructors
Locker, changing room, shower facilities
insurance
Noted : (*) is required.
Guest Details