Bali Bird and Reptile Park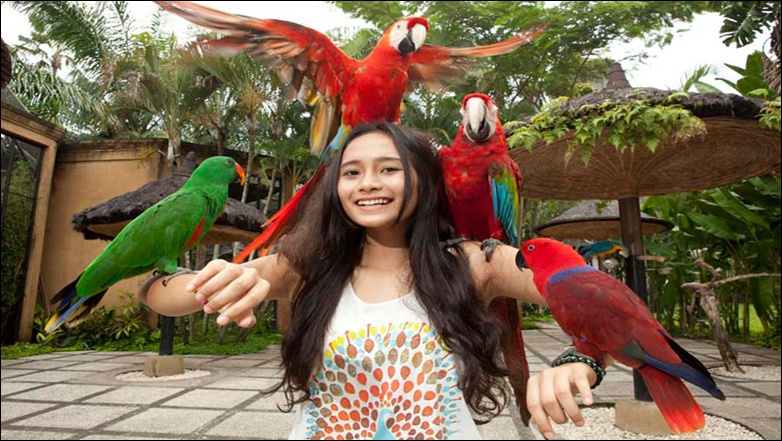 BALI BIRD PARK
Bali Bird Park is one of the most tourist destinations in Bali to see many kinds of birds with the exotic colors from 1000 birds and 250 species. This park is located in Singapadu village, Gianyar regency, about 40 minutes driving from Nusa dua ,Kuta and Seminyak and not too far as well from Ubud.
This Bali bird park served more than 250 species of birds from Indonesia archipelago, South America, and South Africa. Bird that attracted the most attention is the Bali Mynah, the endangered bird from Bali. This park also has assigned as one of Bali Myna breeding sites. It is really good place to visit while you are in Bali.
WHAT TO SEE IN BIRD PARK
Visiting this park and feel travel from the deep misty jungle of Papua and Sumatra to Far East Indonesia to discover the native birds from these remote regions. Venture to other tropical continents too including South America, the African Savannah and Australia. And walk side-by side with cassowaries, crested-cranes, storks and pelicans and many more birds as they wander freely through the park. You will feel traveling to all over the birds world in one park.
BALI BIRD PARK ENTRANCE FEE
Some birds are allowed to roam free in the park. cockatoos and Parrots are allowed to interact with guests very close at the park's Guyu-Guyu Corner – the birds will perch on visitors and allow them to take pictures. Bali bird park entrance fee for foreigners $26 (this price is included with the reptile park).
BALI REPTILE PARK
Bali Reptile Park is one of the most favorite tourist destinations in Bali which is located just in front of Bali Bird Park in Gianyar rgency. Your family holiday could make a stop here at Bali Reptile Park. The children will love it. And back to the dawn of man's first encounter with the awesome world of reptiles and Learn about the fascinating history of these animals and the effort to conserve them.
A lot of tourists visit Bali In every year, which is often known as the last paradise on earth. Loaded with numerous beautiful beaches, caves, cliffs and unbound natural beauty, Bali is truly amazing. And Bali Reptile Park is one of popular tourist attraction in Bali.
BALI REPTILE PARK IS RECOMANDED TO VISIT
Bali Reptile Park includes an open air area where guests are encouraged to interact with, crocodile monitors, tame iguanas, water monitors, and tortoises. The serpent cave houses one of the largest collections of venomous snakes in the world. we can have a close look at the fearsome King Cobra, Mambas, deadly vipers and an 8 meter Reticulated Python in this reptile park. The park authority will give permission to touch the less venomous reptiles like the gentle iguanas. So feel like traveling to all over the world in one park. And if you wish to visit more about animal in Bali, we have special tour for it which is Bali safari and marine park tour.