Tegenungan Water Fall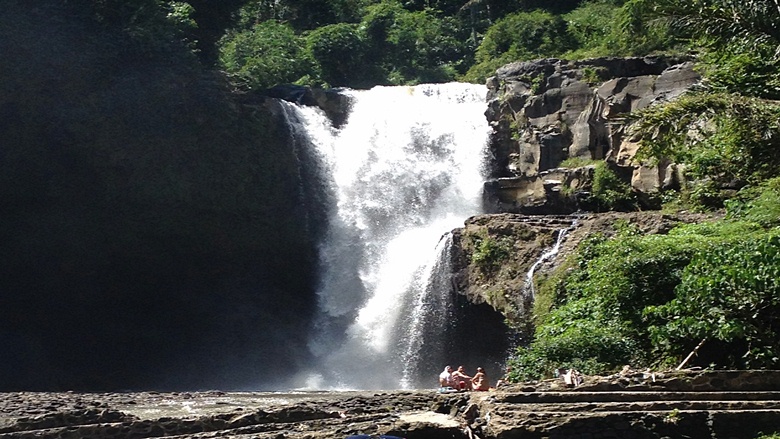 BALI TEGENUNGAN WATER FALL
Tegenungan water fall is another favorite tourist destination in Bali especially in Gianyar regency. This tegenungan water fall is located at Tegenungan village which is really tidy and green village with view of rice paddy and beautiful river where the water fall is. With lovely friendly smile from the local people make you feel more welcome to visit and enjoy the fantastic view of water fall, the only one water fall in Gianyar regency.
Tegenungan water fall location is very close to Ubud village, it is about 20 minutes driving before we rich Ubud. So if you wish to stay longer to enjoy the view and relax a bit, it would be fine. Beside of the beauty of this water fall, we will see the activity of the local people before we reach this place.
WHAT WILL YOU FIND AROUND THIS WATER FALL
5 minutes before we reach this water fall we will drive through the green hilly road and you will enjoy the view of Tegenungan river which is very natural and feels like we are in the jungle. After that we will see the beautiful rice paddy with the local people activity in farming. They have some kinds of plantations such as rice plantation, fruit plantation, and also something different from other village in Gianyar regency is, the flower plantation which is made this village very important for Balinese because many people will come here to get many kinds of flowers for the ceremony.
When we arrive there, entrance ticket is required. And start walking to the river. Step down to the river is available to make the trip to the water fall easier. Walk down through the steps about 10 to 15 minutes and we will be at the river in front of the water fall. If you wish to swim, may do so but be aware of the stones, which is slippery sometime. But there are some spot from the distance without walking down to see the water fall. So don't miss this place meanwhile you are in Bali.
TEGENUNGAN WATER FALL ENTRANCE FEE
To see Tegenungan Water Fall, each visitor will be charge an entrance fee is about 10.000 Rupiah and the money that the people charged will go to the village for the facilities and all the programs that they have at the village such as temple ceremony, road maintenance and many more.