Half Day Bali Animal Tour

HALF DAY BALI ANIMAL TOUR
Bali animal tour is one of the most wanted tours in Bali from Online Bali Driver. Beside of Bali culture, temples, and beach side, we do have our animal park in Bali to enjoy with the family. In this half day Bali animal tour, we will visit Bali birds park, Reptile park which is located in Singapadu village, Gianyar regency, to see 1000 kinds of exotics birds and reptile. And after that we will continue our tour to Bali Ubud monkey forest to see the fanny monkeys. The tour duration will be 5 – 6 hours.
INTERESTING PLACES TO VISIT DURING HALF DAY BALI ANIMAL TOUR: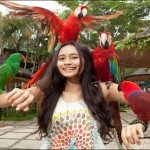 Bali bird park is one of the most tourist destination in Bali to see many kind of birds with the exotic colors from 1000 birds and 250 species. This park is located in Singapadu village, Gianyar regency, about 40 minutes driving from Nusa dua ,Kuta and Seminyak and not too far as well from Ubud.
This Bali bird park served more than 250 species of birds from Indonesia archipelago, South America, and South Africa. Bird that attracted the most attention is the Bali Mynah, the endangered bird from Bali. This park also has assigned as one of Bali Myna breeding sites. It is really good place to visit while you are in Bali.
Bali Reptile Park is one of the most favorite tourist destination in Bali which is located just in front of Bali Bird Park in Gianyar regency. Your family holiday could make a stop here at Bali Reptile Park. The children will love it. And back to the dawn of man's first encounter with the awesome world of reptiles and Learn about the fascinating history of these animals and the effort to conserve them.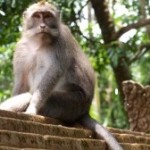 Have you heard about it? Bali Ubud Monkey Forest is located in the center of Ubud village where most of the tourists like to see while they are in Ubud. Bali Ubud Monkey Forest is a small rain forest dwelt by some monkeys and other tropical animals. In Balinese language, monkey forest called WanaraWana also written on the entrance gate before you enter it. So Bali Ubud Monkey Forest is very important function of the continuity the monkey habitat in Bali. Because of that the local community make important role to keep this forest naturally so that all wild animals able to live smoothly.
HALF DAY BALI TOUR ITINERARIES:
12:00 – Pick up from hotel
13.00 – Visit Bali Bird Park
15.30 – visit Bali Reptile Park
17.00 – visit Ubud Monkey Forest
18.00 – Back to hotel
TOUR PRICE:
IDR 400.000/car ( max 6 person)
Inclusion : Car + Gasoline + English Speaking Bali Driver + Parking fee
NOTE :
Tour duration between 5-6 hours
Pick up area : Nusa dua, Jimbaran, Kuta, Seminyak, Canggu, Sanur, Ubud. ( please contact us for other pick up area and for tour starting time and price)
The tour is Private Tours, means there is no other participant, just only you and your companion
May contact us trough Whatsapp/viber/line for a fast respond.
Noted : (*) is required.
Guest Details