Half Day Bali Uluwatu Tour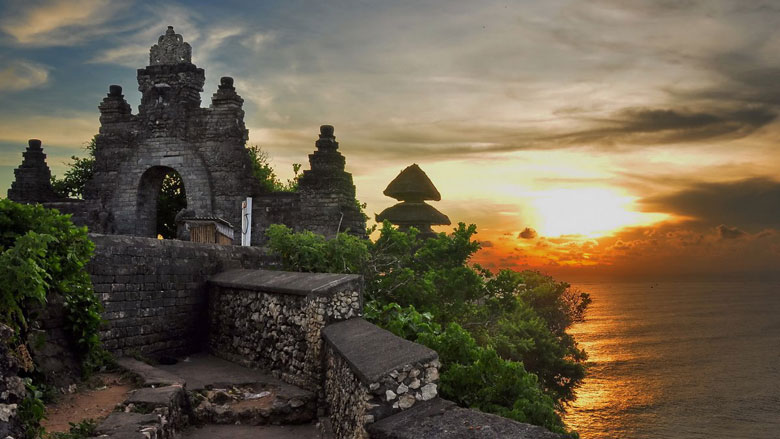 HALF DAY BALI ULUWATU TOUR
Half Day Bali Uluwatu Tour is another excellent tour from Online Bali Driver to enjoy some interesting places such as beautiful Padang-Padang beach well known as Julia Robert beach because she made the movie here. After that will visit Uluwatu temple to see fantastic panorama of temple and sunset followed by Kecak Dance and the last tour will be Jimbaran Bay fresh seafood Dinner. Enjoy more your tour with our friendly English speaking driver and nice air condition car.
INTERESTING PLACES TO VISIT:
This beach is located in Unggasan Village, South Kuta District, Badung Regency and Bali Province – Indonesia. This beach is situated in the white stone hill that blessed by the breathtaking view to the Indian Ocean and beautiful sunset in late afternoon. This beach is about 35 minutes away from Denpasar Airport or 15 minutes from Jimbaran Beach and close with other famous surf points such as Uluwatu Beach, Suluban Beach, Bingin Beach, Dreamland Beach and Balangan Beach.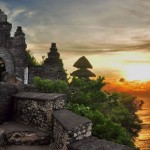 Uluwatu Temple is one of the most famous temple in South of Bali. This temple is located in Pecatu Village, Kuta Sub-district, Badung District, Bali. The temple is 32 kilometers to the south of Denpasar. Uluwatu Temple, also called Luwur Temple, is one of the six Kahyangan Temples, the main spiritual pillars in Bali Island. This temple is featured by a small dry forest which is mostly called by Alas Kekeran (interdict forest) which is belong to the temple and dwelt by a lot of monkeys and other animal. Name of Uluwatu was come from the word Ulu meaning the head and Watu meaning stone. Therefore Uluwatu Temple mean the temple built on the cliff and facing to the Indian Ocean.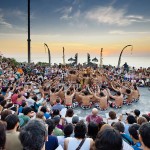 Kecak fire dance is very famous in Bali. This dance is accompanying music which is provided by the human voice, the gamelan suara, a choir of a hundred men or more sitting in concentric circles, swaying, standing up, lying prone as the story develops. the swaying masses the voices of the storytellers can be heard telling the unfolding tale. Kecak Dance is also the only dance that was created for the sole purpose of entertaining foreigners. It is almost never watched by the Balinese in their villages. Kecak fire dance is performed just before sunset, from 6-7 pm. As the drama unfolds, the scene is cast in the last rays of the sun when its orb slowly disappears behind the glowing horizon of the sea. The story continues into the darkness of nightfall as dancers are dramatically lit only by the light thrown from the flames of torches casting long shadows.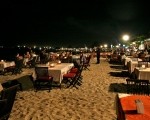 This tour is not complete without trying fresh seafood in Jimbaran local restaurant by the beach where you can choose your fresh fish, prawn, crab, lobster and many more. It is s located between airport and bukitpecatu with original villages of kedonganan and Jimbaran itself. These2 traditional villages lay on a stretch of around 2 kilometers barrow lowland between Bali mainland and the foot of south Bali.
HALF DAY BALI TOUR ITINERARIES :
15 : 00 – Pick up from hotel
16 : 00 – Visit Padang – Padang Beach
17 : 30 – visit Uluwatu Temple
18 : 00 – visit Kecak fire Dance
19 : 30 – Visit Jimbaran Bay for dinner
20 : 30 – Back to Hotel
TOUR PRICE
IDR 375.000/car ( max 6 person)
Inclusion : Car + Gasoline + English Speaking Bali Driver + Parking fee
NOTE :.
pick up area : Nusa dua, Jimbaran, Kuta, Seminyak. please contact us for other pick up area for adjusting the tour timing or schedule and price.
Tour duration between 5- 6 hours
The tour is Private Tours, means there is no other participant, just only you and your companion.
May contact us trough Whatsapp/viber/line for a fast respond.
Noted : (*) is required.
Guest Details